How to Choose Garage Cabinets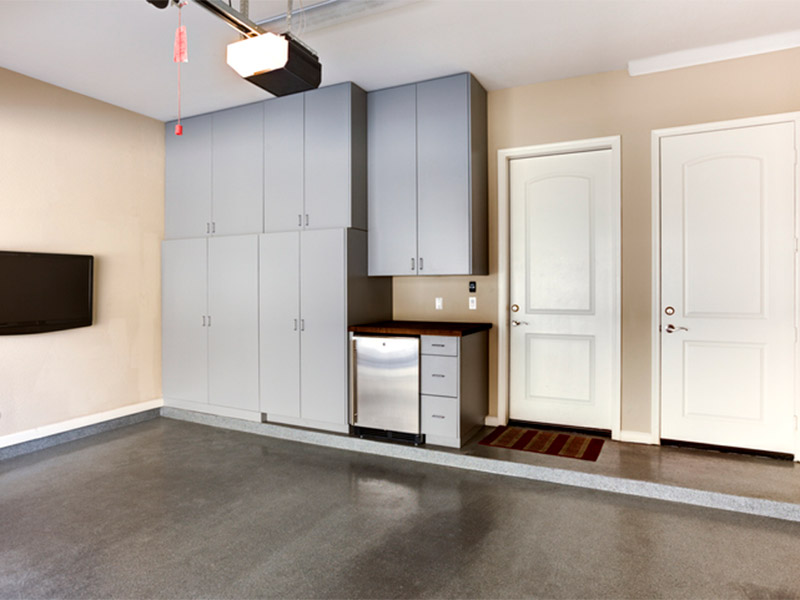 You probably don't need garage cabinets, but you might really want them. While open shelving is less expensive, very strong, and easier to install than cabinets, cabinets offer a more finished look and keep your things out of view. Additionally, when you install cabinets you can potentially keep dangerous items behind locked doors, making your garage safer. If you're interested in making your garage look more organized and function more efficiently, cabinets may be for you. Before you jump into this project, however, there are a few things you'll want to consider.
Make a plan that fits your garage. If you're like most people, your garage is a bit of a catchall for all of your extra stuff. When you're making a plan, think about why you want cabinets. How much stuff do you need to store? How heavy are these things, and how much room will they require? You'll want to make sure that the cabinets not only have enough space to store your belongings but also have sturdy enough shelves to withstand the weight of what you're wanting to store. Do you plan to set up a workshop area, or are you just looking to declutter your garage space? How will you use your garage? Once you answer these questions, you're ready to move ahead with your project. Sketch out your ideas and in the next step, fill in some measurements.
Measure your space. Decide where to put the cabinets, and how much space you have to spare. Will you use base cabinets? If so, you'll need to allocate floor space. How deep should the garage cabinets be to make the best use of your space, taking into account the things you need to store? Garage cabinets are made in a variety of widths, heights, and depths, so you're sure to find some that fit your space, but it's important that you bring accurate measurements with you when you pick out your cabinets. If you're planning to hang wall cabinets, make sure they won't interfere with the operation of your garage door. Think about options like rolling cabinets, or cabinets built to fit into a corner, so that you can make the best use of your available space.
Consider a purge. Another way to make the best use of your space is to free some of it up before you get started with cabinets. By getting rid of things you haven't used in a while, you will reduce the amount of stuff you'll need to store in your cabinets.
Think about the garage's environment. Your garage is not like your kitchen or laundry room, so it will require sturdier cabinets. Think about how much rain and snow come into the garage with your car, and then consider which materials would be sturdy enough to stand up to the environment inside your garage.
Decide if you want new or used cabinets. Is your garage utilitarian, or is it a showplace? Do you just want to contain your stuff, or do you want to create the ultimate workshop? Think about the way you plan to use the cabinets, and you'll be able to easily decide whether you need to buy new cabinets or if reused will suffice.
Once you've measured, sketched up a plan, considered the materials that will work best, and decided between new and used cabinets, it's time to go shopping. If you're in the market for recycled cabinets, there are several different ways to go. One extremely cost-effective way to install new cabinets in the garage is to repurpose them from some other room of your home. If you're redoing your kitchen, for instance, it might be a good idea to move some of the kitchen cabinets into the garage. You can also talk to local builders to find out what they do with cabinets they pull out during remodeling, look up "building material salvage" online to find a likely source, or visit the Habitat for Humanity ReStore, where you can often find good, sturdy cabinets at reasonable prices. If you want new cabinets, you might try a large chain hardware store or a big box store. It's a good idea to look online before you shop, to get an idea of what you'll find in the different stores so that you can have a better idea of what you want. Some of the cabinets you'll find include:
Molded plastic: These cabinets, made of plastic or "resin" are affordable, easy to clean, waterproof, and rust-proof. They're typically easy to assemble, and you can find units that have lockable doors and adjustable shelves. The drawback of plastic cabinetry is that it may not be able to support heavier items as well as wood or metal.
Wood-based: Often, particle board, MDF (medium density fiberboard), and plywood are used to build garage cabinets, often with outer skins made from a laminate or melamine material. These cabinets can be very attractive, and come in a wide variety of styles and colors, but are heavy and susceptible to moisture.
Metal: Metal cabinets are the most expensive option for garage cabinets, and for good reason. They're sturdy, durable, and attractive. Their only drawback, aside from the expense, is that some can be prone to corrosion or rust.
Garage cabinets help make a garage more functional, but they're not essential to the day to day use of the garage. The garage door, however, is a vital component of your garage. It's important to keep our garage well-maintained, in good working order, so that it doesn't cause problems in your daily routine. Check your garage door regularly to make sure it's running smoothly on the tracks and not making any unusual noises. If it needs repairs, have it fixed before a small problem turns in to a big one. If the necessary repairs are extensive, it may be time to consider replacing the door.
Whether you need a repair or a whole new door, A1A Overhead Door Company is here for you. Our knowledgeable staff can help you determine exactly what's needed, and complete your installation efficiently and professionally. Family owned and operated, A1A Overhead Door serves the entire metro Jacksonville area. In fact, we even go up to fifty miles into the outer countries. We are licensed and insured to cover both the client's property and ours, and we're proud to work with our clientele and will match or beat any competitor's written estimate. For more information, you can call 904.579.1123 or; contact us through our website.